He says that in the course of the current year hard disk drive manufacturers will face multiple obstacles. Including reduction in personal computers supply and slumping demand for laptops in favour of smart phones and tablets. Solid state drive becoming more affordable and available and, therefore take the share of hard disk drives. Worldwide revenue from sales of hard disk drives decreases annually.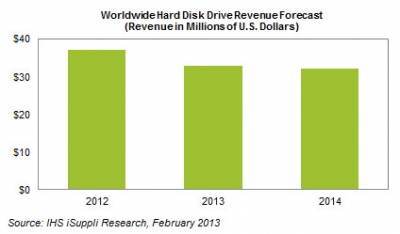 In its turn, income from hard disk drive sales will go down as a result of reduction in average cost of the storage device. Average cost of hard drive in 2013 will supposedly be reduced by 7%.
Anyway, hard disk drives will remain main data storage medium this year, essentially because magnetic storage media are integral part of corporate computing systems. Since corporate sector is still major driver of market development, hard disk drives won't disappear from shelves for at least several years.