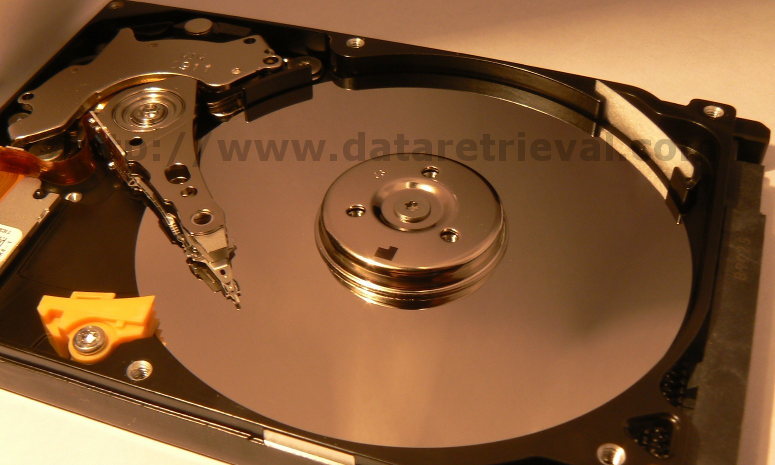 Possible causes of heads parked on the plates:
shock, fall;

damage of the parking mechanism;

in case of SpinPoint Samsung (type Magma, MP0302H, MP0402H, MP0603H, MP0804H) PCB damage can cause parking the head;

running out of battery in the portable computer during the functioning of the hard drive (record/reading) may cause heads parking (emergency parking mechanism does not work properly).
Parked heads are sticking to the surface of the plates (in the same way like two sheets of glass laid on themself) and are making start of the engine impossible. In case of parking caused by the fall or the shock, most often the surface of plates is damaged (visible trace of the head on the surface of the plate) what complicates the process of the data recovery very much.
In case of the failure of the parking mechanism, the head can miss the parking, and stuck between the plate and the parking. It may occurs the physical head crash (e.g. tearing the plate off) and appearing the pressure to the surface of plates. Such damage causes scratching of surface of the plate - one of the heaviest kind of hard drive damages.
The data recovery from the HD with parked heads consists in importing heads to the parking space (landing zone or external parking), or the exchange of damaged heads and copying data. Unfortunately, the parked head not always will be unstuck from the surface of the plate. The damaged head is often stuck in that way, that the attempt to unstuck the head off the plate is ended with tearing off the element MR. This element stays stuck to the surface of the plate and is very difficult to remove. Taking off the head without the MR element from the surface of the plate without breakdowns of the area is also a difficult challenge. Click here if you are interested in data recovery services in Sacramento, CA.
On photographs ST9160310AS HD with parked heads. Pressing the lid of the hard drive was a reason of parking (crack on the lid).