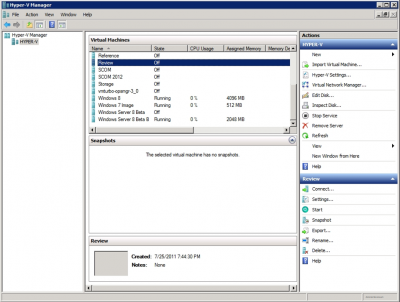 Memory Ballooning
A feature that allows a virtual machine to use more memory space than the physical host has available is called a Memory Overcommitment, and its improved version in Hyper-V 3.0 is called Memory Ballooning. These technologies allow to increases server consolidation ratio by increasing virtual machine storage density (number of virtual machines per virtualization server). This result is achieved due to dynamic memory reallocation, allocated to separate VM and at the same time the factors like VM activity, its status, parameters like "minimum memory" and "startup memory" (can be determined by administrator) are taken into account. In Hyper-V 2.0 these two parameters were practically equal, when in Hyper-V 3.0 they are completely independent, for example, for starting the machine you can allocate more memory than the minimum that it would get during the operation stage.
Live Migrations

Live Migration (live migration of virtual machines between virtualization servers) was first introduced in Hyper-V 2.0. But from the very beginning it had a limitation — in Hyper-V 2.0 live migration was a serial operation, meaning that only one VM could be live migrated at a time. In Hyper-V 3.0 this limitation was removed and you can live migrate multiple machines simultaneously and the administrator can set the concurrent live migration threshold based on the available bandwidth to avoid network congestion.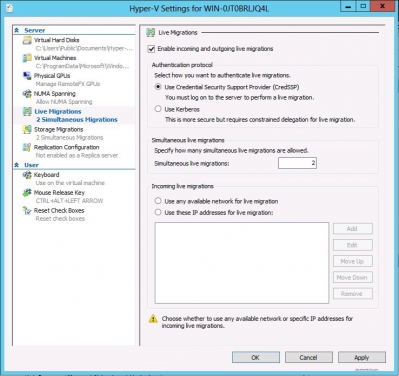 Prevoisly, live virtual machine migration was possible only within cluster nodes. In Hyper-V 3.0 this limitation was eliminated. Such 'transcluster' VM migration is called Shared Nothing Live Migrations. It's worth noting that this feature shall not be viewed as a permanent replacement of traditional clusters, and shall be used primarily only for migrating virtual machines to the necessary virtualization server.

Shared Nothing Live Migration requirements:
• Two or more servers running Hyper-V 3.0
• Servers should belong to the same Active Directory domain
• To ensure maximum performance the servers should use processors from the same manufacturer (see the description of compatible processors in the Hyper-V 3.0 documentation)
• Servers should use a fast network network connection for live migration
• Virtual switches should have identical configuration
• Client for Microsoft Networks and File and Print Sharing for Microsoft Networks should be on
Shared storage is no more required for live migration as it was before Hyper-V 3.0. Now you can use local storages and data is migrated via Ethernet. This new technology allows you to build clusters without shared storage as well.
Storage Migration

The difference between this technology and live migration is that storage migration enables you to move virtual machine files from one storage to another and VM remains on the same server. This technology replaced Quick Storage Migration in Hyper-V 2.0. In Hyper-V 3.0, VM storage migration occurs without stopping or pausing the VM (in contrast to the previous version of Hyper-V).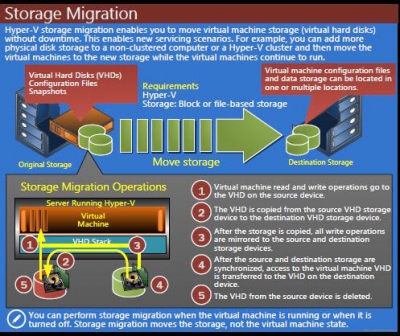 Hyper-V Replica
It is a completely new feature in Hyper-V 3.0. It allows you to replicate a VM to another server. Incremental changes are moved according to adjustable schedule with minimum launch interval close to real-time ("Near CDP") — approximately in 5-15 minutes. Hyper-V Replica can work on lines with time delay and unstable connection. Microsoft positions this technology as a protection tool against casualties.
Scalability
In Hyper-V 2.0:
Maximum number of VM virtual processors – 4
Maximum VM memory size – 64 Gb
Maximum size of virtual disk – 2 TB
Maximum number of VMs per host – 384
Maximum number of VMs in cluster - 1000
Maximum number of hosts in cluster – 16
Maximum host memory size - 1 TB

In Hyper-V 3.0:
Maximum number of VM virtual processors – 32
Maximum VM memory size – 512 Gb
Maximum size of virtual disk – 16 TB with VHDX
Maximum number of VMs per host – 1024
Maximum number of VMs in cluster - 4000
Maximum number of hosts in cluster – 64
Maximum host memory size - 2 TB

Snapshots
Piling up snapshots in the system lead to performance slowdown. In connection with that an important improvement in Hyper-V 3.0 is a possibility of deleting unnecessary snapshots without restarting virtual machine (it was required in Hyper-V 2.0).
Hot adding resources
New Hyper-V 3.0 allows you to add disk resource and RAM without restarting virtual machine. Hot adding virtual processors available in VMware vSphere has not yet been realized in Hyper-V.
Deduplication

Since Hyper-V is a part of Windows Server 2012, the new version of automatic virtual environment now has a deduplication on the file system level. Deduplication allows reducing disk pace utilized by VHD libraries, VHD volumes, and ISO disk images through elimination of repeating data blocks stored on disks.
Virtual Switch

In Hyper-V 3.0 virtual switch became extensible, allowing the manufacturers of monitoring and management of network infrastructure software to create expansion modules for integrating Hyper-V virtual switch with their products.
Conclusions:

Hyper-V 3.0 contains multiple improved and new functional features which, in general, allow us to state that this version can be regarded as a worthy competitor to VMware vSphere in corporate segment.