It is possible to make the image of the hard drive with many programs (e.g. dd, DMDE, R-Studio in the demo version). These programs are creating the binary file, reading entire hard drive, sector by sector. When we already have such an image, We should somehow upload it to VMware - but, VMware doesn't have such a function. So We need to cheat the software.
We are creating the new virtual machine, as the guest operating system. We are choosing "Other" twice. We are allocating on the HD this virtual machine - a created new file will stay about the permanent size (VMware won't be magnifying the image size even when more space is needed). One should be smallest as possible – it won't be needed. I assume that the new virtual machine is already created. We are copying the image of the hard drive which we want to start to the folder of the created virtual machine. Now it is time for manual modifications.
We are opening a file [machine_name]. vmdk in the text editor. In this configuration file new parameters of the image file will be saved.
# Extent description
RW 40021632 FLAT "sectors.ima" 0
# The Disk Data Base
#DDB
ddb.toolsVersion = "0"
ddb.adapterType = "ide"
ddb.geometry.sectors = "63"
ddb.geometry.heads = "255"
ddb.geometry.cylinders = "2482"
ddb.virtualHWVersion = "6"
Elements which We should change were bolded. The first element is an amount of sectors in the image. Second, it is a name of the image. A third, fourth and fifth element is a geometry of the hard drive (of image) read out from MBR. I will leave reading geometry for You as the homework :). The machine is ready to start.
How can it be useful in case of the data recovery? It is possible to see the authentic operating system before the defecting the hard drive (only if logical organization of the HD, or at least an operating system, isn't violated). It is possible to start applications which are peculiar to the system and to check, whether all their databases work properly. It often happens, that a hard drive is finding its way to the data recovery with the software written up to business data - in such cases the presented way is excellent.
Below You can see an old version of system NetWare, NWFS file system. It is possible to see, what would happen after starting the authentic hard drive in the server from which he comes. Incorrect repaired boards are destroying the already damaged file system.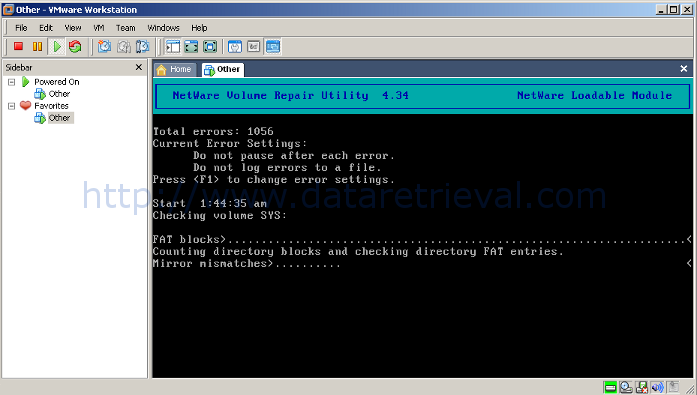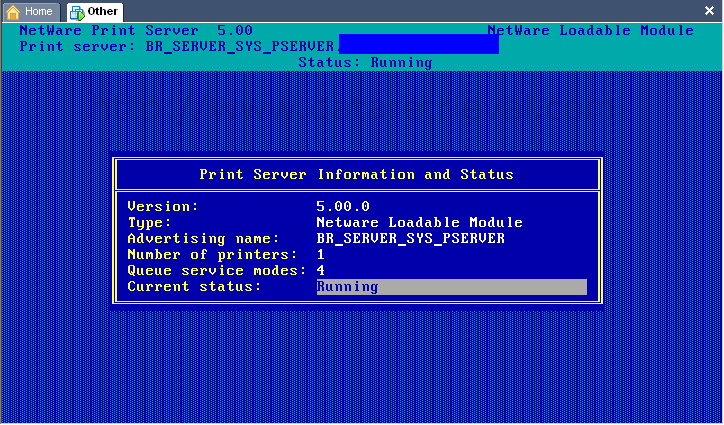 PS: in the case above, both boards of files were damaged. Bad sectors and the tool to repairing the file system isn't a good connection. Data was retrieved manually. More information you can ask our team in Chicago office