So who really rules the market these days, who is the ultimate leader, or is he there? Lets check the manufacturers' statistics.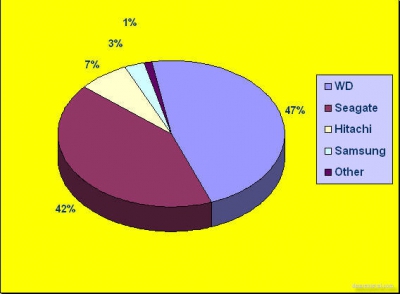 The leader is WD that was just recently in disfavour, but it is not an absolute leader as it is immediately followed by real veteran that has never abandoned the market – Seagate. It is quite possible that such distribution is caused by the recent scandal with mentioned above SD15 firmware that lead to shaky image of Seagate as safe and flawless manufacturer. But flawed drives are in the past now, maybe, this will bring back the lost market share? We will see how the situation changes after half a year.

The third place with eight percent of the market belonging to Hitachi. The share is not big but the result is not the worst one. If a remember correctly, Hitachi always occupied similar position – not a leader but has very faithful fans who particularly value the failure resistance property of its products. Is it so or is it not we will see from the number of warranty claims. But first things first.

Samsung. Very large manufacturer but not in this particular segment. Only three modest percent fell into hands of Korean electronics giant. Some time ago Samsung even didn't manufacture drives although it used to manufacture quite a lot in the past. As a result, it is not yet clear with Samsung whether these 3% are success or failure. Maybe before that they had 2% and they managed to increase sales by 50%. That I don't know and don't want to dig deep. Another time maybe.

And just a few words about what is behind the term "Other". This is first and foremost Kingston, Toshiba and Intel. Its all clear with Toshiba. Its modest share (less than 1000 for half a year) consists of laptop drives purchased for upgrade or replacement of crashed ones. The case with the other two is not as clear. Guess what? Of course, they both manufacture SSD. And not only they. OCZ also manufactures SSD (although it is a bit scary to keep data on its drives), as well as Corsair, A-Data and Transcend. Altogether they couldn't cross the necessary sales limit.

So I think that we have covered the performance and now we shall proceed to the most intriguing part – failures. See the diagram below.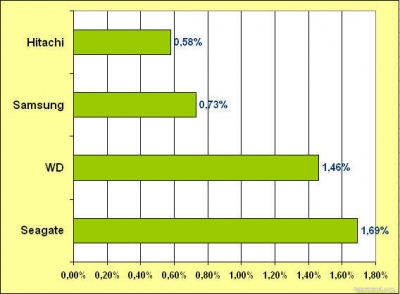 See Hitachi. They praise reliability of its drives for a reason. Only 1 out of 172 sold drives falls under the warranty claim. Keep that in mind. I have to admit that I never used a drive of this manufacturer because I simply didn't trust it. Now back to sales leaders. It seems that they are outsiders in terms of reliability. Even not that much trusted Samsung showed much better resul. Ata boy for Hitachi and Samsung and Seagate and WD need to carry out a very serious work on errors. However, why should they? The sales are perfect even at this failure rate. They'd better spend money on marketing.

I am also very curious to find out how the situation with reliability would develop in light of the fact that recently WD purchased Hitachi. Will it affect the reliability of WD drives or not? Can this giant adopt the best quality practice of purchased company and implement it in its own manufacturing process? But there is no sense in losing oneself in conjectures, lets leave failures on the head of manufacturers and see whether there is any dependence of failure probability on the capacity of hard drive regardless of its manufacturer.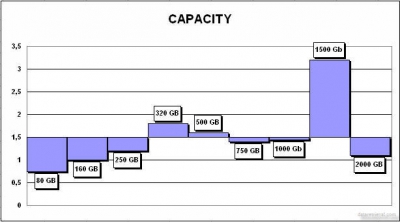 Something like that. All clear with 80-250 GB – failure percentage is low because many are simply disposed without recourse to warranty. But the rate of 1500 GB hard drives is really raises hackles. There is something wrong here. Its either echo of notorious SD15, that still break down (but why then 500-1000 drives are fine?) or failure of certain model (or several) or they are all so fragile. Now lets get to certain models and find out what is what.

But first lets check whether there are any dependencies of failures from spindle rotation speed and drive cache size. In my opinion it is unlikely. Yet, lets check the diagrams.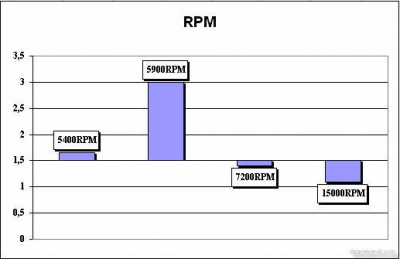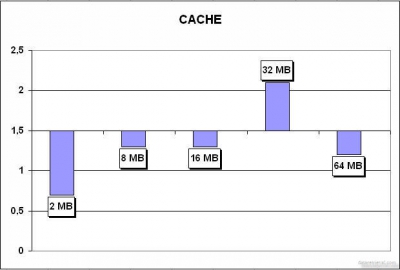 None the less, some dependencies are really there. Though they can be explained by high number of failures of several popular models as in case with spindle rotation speed. But there are not many 5900 RPM models, and hence, we can draw some conclusions right now. So, lets go to model rating and see what we've got.

TOP10 SALES.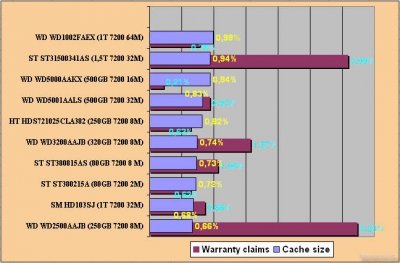 We've got the main enemy of good statistics of drive failures with cache size 32MB – Seagate ST31500341AS. 3,09% of warranty claims (1 out of 32). Who else can be highlighted? As you see another two WD models are 'good': WD2500AAJB (1 out of 31) and WD3200AAJB (1 out of 64). However, both models are past its best and are not of any substantial interest to home users. For better understanding of leaders in reliability and failures I will show you the corresponding top lists.

TOP5 SAFEST HARD DISK DRIVES.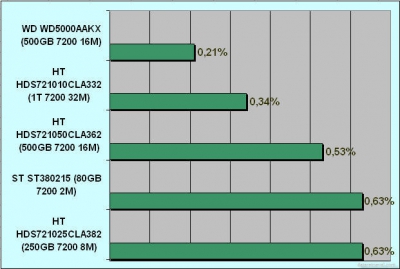 And another proof in favour of Hitachi backers – three out of five hard drive were made by this company. But WD fans also have all reasons to cheer up because its popular model WD5000AAKX rightly gets the title of "The most reliable hard disk drive". The result is quite impressive! Only 1 drive out of 476 is submitted back under warranty – reliable almost as CPU. Although its main competitor has its own model in TOP5 ST380215A, its index is three times worse and who's interested in 80GB hard disk drives these days? Considering this result we can easily exclude Seagate from the TOP5 safest hard disk drives.

TOP5 MOST FREQUENT WARRANTY DRIVES.
As in the previous TOP5, WD is leading again with the only difference that this time it's the worst one. The most frequent guest of service centres under warranty is WD2500AAJB. WD occupied three seats in the worst TOP5. However, included in the list Seagate hard disk drives are interesting to potential buyers – 1500GB and 2000GB (top-selling is 5900RPM) and not some 250GB and 320GB. And no Hitachi, no Samsung…