Hard drive manufacturers give a guarantee for 1-2 years. It seemed that modern hard disk drives are quite reliable – around 80% work correctly for over four years under uninterrupted operation conditions.
However in practice uninterrupted operation is less of a threat to HDD than home use with frequent ons and offs, shaking and temperature and voltage fluctuations.
As a result of research, Backblaze experts found out that 'death rate' of HDD is the highest during the initial 18 months of operation and accounts for around 5.1% per annum.
After reaching its peak it goes downwards down to 1.4% and again hikes after 3 years of operation, reaching up to 11.8% per annum.
The reason behind it is that at the beginning hard drives fail because of any kind of manufacturing defect. Defect-free HDD serve for several years and then gradually break down due to simple depreciation.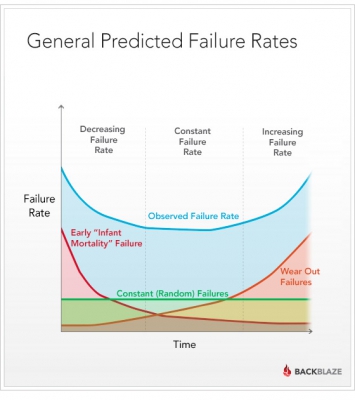 There is also a factor of randomness when failure occurs for unknown reasons.
Research is limited to four years. Although its authors suppose that later on it goes upwards and after 6 years the number of failed hard drives reaches 50%.
Therefore, in theory around half of hard disk drives would be able to pass 6-year threshold. Which is quite good for mechanic devices of consumer class.
Researches did not indulge into calculating average life duration of media because some of them do not live through even for several months at the time when other are capable of surpassing a 6-year threshold.
Despite good results one should not forget about backups. There is no guarantee that your hard disk drive does not have the manufacturing defect, and recovery of lost data often requires a number of complex procedures and sometimes is not possible at all.