The ideal temperature for proper operation of hard disks range from 85 0F to 120 0F, the fact that high temperature is to drive less harmful than too low. Unfortunately, cases of run-off to our lab from the southern U.S. states and throughout the years, related to the overheating of drives are not less numerous than those of winter, Frost-related media.
It turned out that the best conditions for working hard on a laptop, those where it is on a desk or other similar surface. In the case of a desktop computer is very important additional cooling by fan. Under such conditions, the disk temperature is about 85 0C. Without the fan disk temperature rose to about 122-140 0F. No fan or soft ground, where he found a notebook, the temperature rise caused the drive to 150-160 0F.
"Protection against overheating of the disk does not require great effort, but can save a lot," says Alexander Kelly.
Council for Computer Users can be formulated in three points:
First of all we must remember to provide adequate computers breeze. We do not put computers directly to the wall, or anything that may interfere with their ventilation.
We need to use coolers for desktop PCs. When we notice that the machine heats up too much - try to see if the fan is working properly for sure. In the case of portable computers, we should from time to time check the cooling system is known to be purified. Unfortunately, many people forget this and this is a fairly common cause of overheating the drives in laptops and notebooks.
Reckless is to put the notebook on a bed or other soft surface. The best place for your portable computer desk (or other hard and smooth surface).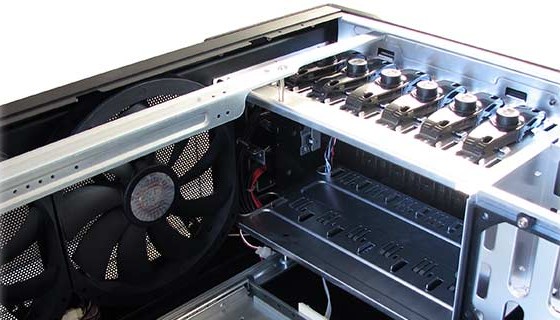 The solution for a desktop computer - the fan next to the space on hard drives
You may also read about HDD and RAID recovery services in San Francisco, CA, performed by Data Retrieval