Listening to this conversation you again realize about how many rights have modern times with its crazy vital rhythm to dictate its conditions of the game. Thus, for example, 40 years back the number of favourite singers of your grandparents could be stored on a dozen of vinyl records. By the way, the first vinyl was produced at the end of the 19th century which means that its mass production lasted for a little bit less than 100 years. I am curious whether USB flash drives will be mass produced and used for the same period of time.
The name of flash memory was given by Toshiba company (it's the feature of chip erasing speed "in a flash"). The first industrial prototype of a flash memory was released in 1990-ies by Intel. This flash memory was very expensive, therefore it was used only in camera cards that were quite a rare thing as well as on-board computers of military aircraft instead of hard drives. The first 8 MB flash drives were produced in Israel and everyone was excited about it – the size of memory was 5 times larger than of a standard diskette. Nowadays the capacity of flash drive reaches up to 256 Gigabytes.
How Gigabytes of memory are distributed is the subject of a separate article that should be based upon statistical data. This particular article draws attention of the reader to some interesting peculiarities of a flash drive: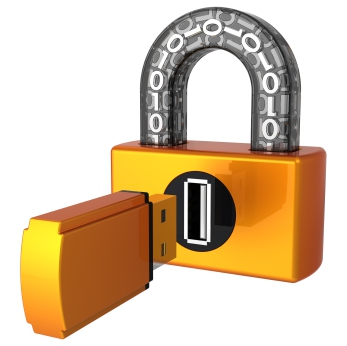 1. Flash drives can be secure.
1.1. "Password protection" function.
If your device has this function it means that third parties cannot use or rewrite the data on a flash drive.
1.2. Fingerprint scanner.
This scanner is more secure than password protection. The scanner scans the fingerprint upon first connection to the computer and remembers it. Next time you connect the flash drive to the computer the scanner scans the fingerprint and compares it to the fingerprint that is in its memory and having done that is either grants or denies the access to data.
2. Child proof or parent proof.
There is a special lock useful for those who like to accidentally delete something while deleting unnecessary information from the flash drive. As in diskettes, the lock is set to locked and information is available read-only.
3. Compiling information.
You should unite information into a single file, if possible, because many tiny files are written much slower to the flash drive than one large file. It is so because a flash drive doesn't write on a maximum speed at first, it gains the speed during writing process.
4. Flash drive is a trendy thing able to tell something about its owner.
Flash drive body can be made out of the following material:
metal (the owner — dynamic business person);
rubber (the owner – practical person);
plastic (the owner – quick off the mark person);
waterproof material (for extravagant individuals who love swimming in their dress. For example, a meeting at café or more informal environment. There is a fountain or a swimming pool nearby. The owner walked by slipped and got into the water. Anything happens!).
In addition to that some companies produce uncommon flash drives in the shape of food (you can treat someone with a cookie-flash-dough) or other shapes, built in watches or other devices. So this territory is quite fertile to make yourself and your close friends and relatives happy!