1.Then I went to Support Service and wrote a humble letter. I learnt at the same time that there was no support for the root server software. Instead, I received a letter similar to this text:
we have connected a remote console to your server to solve the issue.Access details:http://lara03.rz13.hetzner.de
user: ******
pass: ******
Please note that access can only be guaranteed for a maximum of two hours. If the
Lara is not used after the ensured time period, we can use it elsewhere without
providing further notice.
2.I went to the above-noted address, entered the username and password. And I saw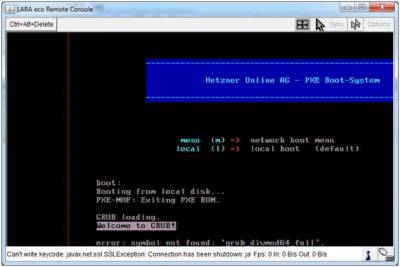 3."Yeah," I said, and began to do a Google search for «error: symbol not found: 'grub_divmod64_full». I learnt that I was not alone with such a problem, and that the most likely cause had been the system update.
4.I loaded the server in alarm mode (make sure to select 64-bit, if you had a respective system installed)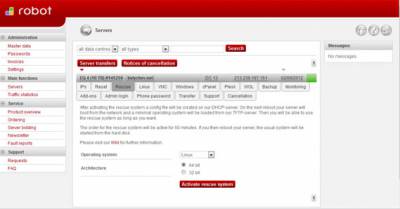 I do not want to keep you in suspense for a long time - the solution was as follows:
1.I created a chroot environment:
# mount /dev/md2 /mnt
# mount /dev/md1 /mnt/boot
# mount -t dev -o bind /dev /mnt/dev
# mount -t proc -o bind /proc /mnt/proc
# mount -t sys -o bind /sys /mnt/sys
# chroot /mnt
2.Then I reinstalled the GRUB:
# grub-mkconfig -o /boot/grub/grub.cfg
# grub-install /dev/sda
# grub-install /dev/sdb
# update-grub;
Here are a couple of comments. It seems that the boot loader should be installed on md1 (# grub-install /dev/md1), but this variant did not work, returning a number of errors. Therefore I had to install it on either of the two mirrored drives severally. I do not know if this was correct. But it helped in my case.
In conclusion, here are a couple of links to the posts of people with similar problems:
1.http://www.ivanov2.ru/error-symbol-not-found-grub_divmod64_full
2.http://blog.wolfspelz.de/2012/05/hetzner-root-server-does-not-boot-and