1. Computer preps:
Protect your hard drive against possible problems in the future. Make sure that it does not contain bad sectors. Check the disk with ScanDisk and then defragment it with Disk Defragmenter. These checks may take a while, but they will also allow saving some time and release you from headache during installation of new hard drive, allowing copying data that does not contain errors. Do not forget making copies of important files, if possible. Also do not forget about such files as normal.dot of Microsoft Word and Internet browser tabs.
2. Open your computer:
Turn off the computer and take out plug from the socket before removing cover. Make sure to wear an antistatic wrist strap before starting work with computer parts. It may be purchased from the nearest electronics shop. Connect the strap to grounded metal object. Find a free space. Usually free space for new hard disk drive may be found close to old one. Find power connector. If there is no vacant connector you may use adapter. Use new data cable. To ensure maximum productivity use 80-pin cable. Majority of hard disk drives includes such cables. Replace old cable with new one – its connectors are same. If it is SATA hard drive, then power cable and data cable will be of appropriate type.
3. Install jumpers on hard disk drive:
It is recommended to install a new hard drive second in IDE primary channel. This is the channel to which old drive is connected. When two drives are connected to one cable one of the should be set as Master and another one as Slave. Location of jumpers corresponds to above settings and is displayed on hard drives. New disk should be assigned as bootable disk and jumpers shall be switched to Master. Jumpers of old hard drive are set to Slave.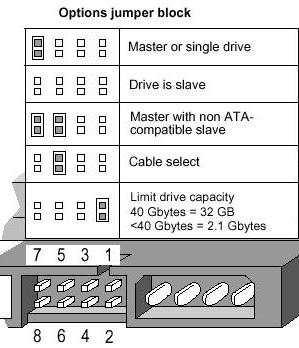 In case of SATA, Master and Slave is determined by connector on motherboard to which hard drive is connected. Make sure that you have a programs that supports copying data to new hard drive. If you plan to use new hard drive as an additional file storage (operating system will boot from old hard disk drive), then it is necessary to set new disk into position Slave and leave old as it is.
4. Assembly:
Install new hard drive into computer. Connect data connectors to both hard drives. Connect power connectors to both hard drives. Check all connections. Do not close the computer until you make sure that everything was done properly.
5. Final stage:
If you plan using new hard disk drive as an additional file storage (operating system will boot from old hard disk drive), then you need to assign a letter to new SATA hard drive with hard drive management tool (Control panel – Administrative tools – Computer management), a letter will be assigned automatically in case of IDE. Turn on the computer and boot from installation disk to install operating system to new hard disk drive. Adhering to instructions, set the new hard drive and copy data from old disk to new disk. Or again install the necessary operating system and after installation is over set it for operation and copy all the necessary information from old hard drive. After checking whether everything is ok, you may format old hard drive to remove useless data and prepare it for keeping new files.